Â
           Â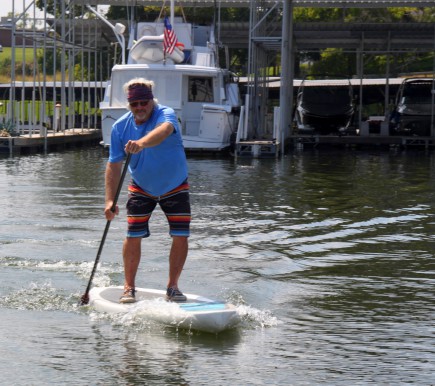 Inspired by a lifetime of water sports, Chris Tilghman  brought  the first and only full service stand up paddle company to the North Georgia Mountains. Chris has over twenty five years experience surfing some of the world's best waves in Puerto Rico, Costa Rica, Cape Hatteras, California, North and South Carolina, Florida, Oregon and Hawaii. He spent five years living on Kauai's North Shore. Stand Up Paddling white water rivers, SUP surfing and SUP fishing are current passions.
Since May 2009, Surf Blue Ridge has been a leader in the fastest growing water sport on the planet.  A North Georgia pioneer in flatwater and white water SUP. An experienced knowledge of paddling techniques, boards and paddles makes this the "go to" place in Blue Ridge for paddleboarding.  My goal is  introducing people to a life changing style of living.  Lessons and tours to enrich  the SUP experience are available. Published or custom service pricing.  In 2015 I am specializing to include only lessons, lake tours and Toccoa River trips. Custom board sales only.  Quality in the experience, not quantity remains my goal.
Chris was born in North Myrtle Beach, SC and raised on the ocean. A BS in Ornamental/Turf Management Horticulture was earned  from Clemson University in 1977. In 1979 Chris and his brother built and operated Gator Hole Golf Course  in North Myrtle Beach until it was sold in 1999. It was then he moved to Kauai for 5 years. Now in Blue Ridge since 2006 he owns this company.  Along with paddle skills, his lifetime interest in nature and horticultural background provides Chris great plant and animal identification skills that add interest to the paddle tours provided.